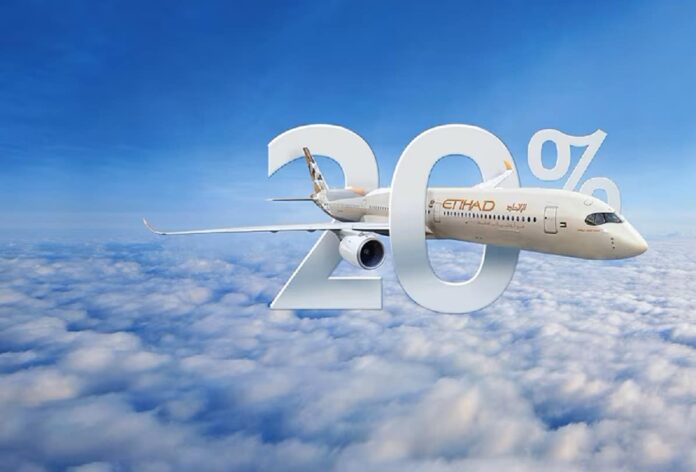 Great news for travelers looking to book flights at a discounted price! Etihad Airways has announced a flash sale on flights and is asking customers to use a promo code when booking on its website. Read on to know all the details!
Amadeus Altéa: The Future of Guest Experience and Operations
Etihad Airways has made a big technological advancement by moving to Amadeus Altéa suite of travel technology. This has made the airline's flights between Abu Dhabi and its global network of airports faster and simpler in terms of check-in and boarding process.
Also read: Get Flight Tickets From Dubai To This Place For Just AED 27
Antonoaldo Neves, Etihad's CEO, expressed his excitement about the move to Amadeus Altéa by saying, "Amadeus provides us with the tools we need to continue enhancing our guest experience and improving our operations into the future." With the implementation of Amadeus Altéa, the digital experience for customers booking online through etihad.com or using their mobile app and self-service tools will be further upgraded, giving them even greater control and flexibility in managing their journey.
A Dynamic Shopping Experience 
Moreover, Etihad's valued partners in the travel industry will have a much richer, relevant, and dynamic shopping experience with the move to Amadeus Altéa. This is just the beginning of their continued journey with their partners, as the airline strives to provide the best possible experience to its customers.
Also read: Enjoy A 5-Course Business Lunch Menu At This Restaurant For AED 37 Only
Planned and Rehearsed Transition
According to Neves, the move to Amadeus Altéa has been the largest IT project the airline has undertaken in the last decade. Over 100 IT processes were moved over, and more than 6,000 colleagues were trained to use the new system. The transition was planned and rehearsed with scrupulous testing at every stage, ensuring a smooth and successful implementation.
Etihad Airways' Discount Details
To avail the offer, use the promo code EYFLASH20 when booking on the website
Offer valid: Until midnight today, March 14