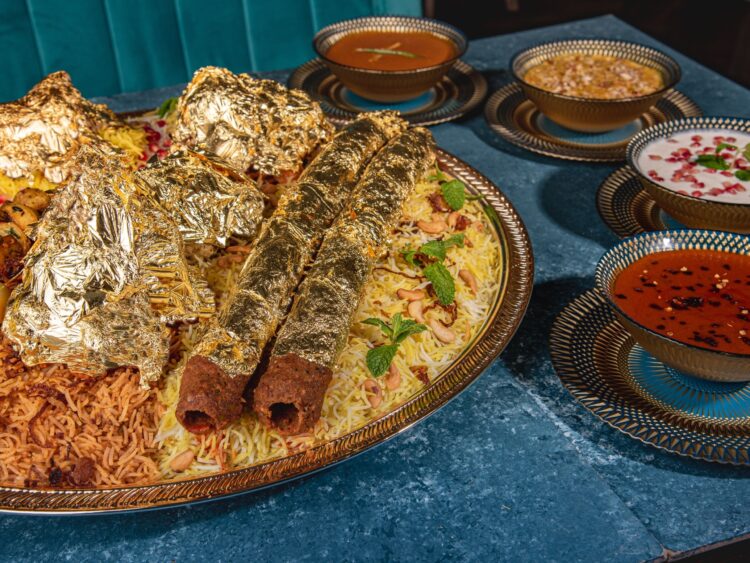 Bombay Borough, DIFC's latest all-day Indian Bar & Eatery invites you to celebrate their 1st Anniversary with the Worlds' Most Expensive Biryani.  
At Bombay Borough, they believe that good food tastes best when shared with good friends. They introduce you to a heavenly experience with their signature creation, The Royal Gold Biryani. Their Meal of the Royals is enriched with unique Indian spices and 23 karats edible Gold. Could this BE anymore magnificent! The Royal Gold Biryani exclusively priced at DHS 1,000, holds the title for the world's most expensive biryani, and is here to take you on an enticing journey of unique flavors and aroma adding up to your extravagant Dubai experience.  
Prepared with passion, a delight to the eyes, the Royal Gold Biryani is Indian cuisine with a difference!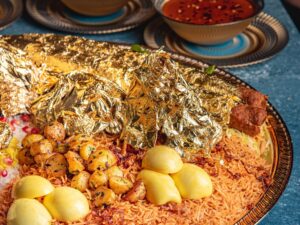 To start off 2021, pamper yourself luxuriously with our Gold Leaf kababs- The Kashmiri lamb seekh kababs, old Delhi Lamb chops, Rajput chicken kababs, Mughlai koftas, and malai chicken roast served on a bed of saffron-infused biryani. The Royal Gold Biryani is complimented by a wide selection of their exquisite sauces, curries, and raitas. It is the exuberant journey to experience Royalty. This royal meal is served in a Thaal and the Gold Biryani is garnished with 23 karat edible Gold.  
Visit and celebrate the 1st Anniversary of Bombay Borough, the Royal Gold Biryani and embark on a culinary journey you have never experienced before. 
The Royal Gold Biryani serves 4-6 people and requires 45 minutes preparation time. The Royal Gold Biryani is available to you at an absolute price of DHS 1,000. Bombay Borough is located in Gate Village 3 at Dubai International Finance Centre (DIFC) just below Capital Club, next to Sotheby's, opposite Gate 2. You can place your reservation at reservations@bombayborough.ae or by calling on (+971) 43271555 
Facebook | Instagram | Youtube