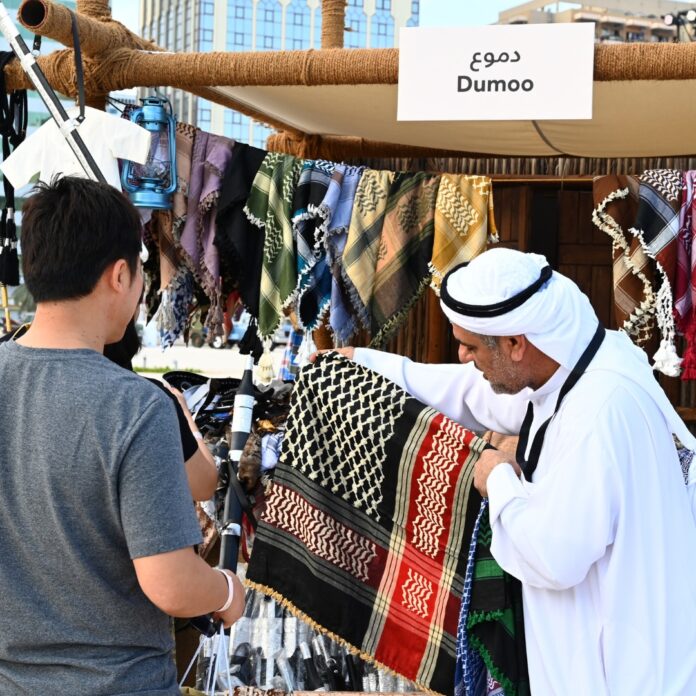 Abu Dhabi is set to host its flagship cultural event, Al Hosn Festival, from January 13th to 22nd. This annual celebration of the emirate's cultural heritage and creativity takes place at the iconic Al Hosn quarter, which is home to historic buildings and outdoor areas that embody the proud cultural heritage of the UAE.
Al Hosn Festival In Abu Dhabi From January 13 – 22
Organized by the Department of Culture and Tourism of Abu Dhabi (DCT Abu Dhabi), the Al Hosn Festival festival promises a wide range of activities for visitors of all ages, including cultural performances, film screenings, art installations, craft and design demonstrations, workshops, retail pop-ups, and culinary experiences.
Al Hosn Festival is held at the original urban block of Abu Dhabi, which comprises the historic Qasr Al Hosn Fort, the Cultural Foundation, the National Consultative Council building, and the House of Artisans. The festival is designed to bring to life the rich fabric of the city's history, people, and traditions while also highlighting its future ambition.
Also read: Europe's Biggest Music Festival To Be Held At Abu Dhabi's Yas Island ; Travis Scott To Headline
According to Mohammed Khalifa Al Mubarak, Chairman of DCT Abu Dhabi, "Al Hosn Festival tells the story of Abu Dhabi at its place of origin. A key component of our cultural calendar, the festival celebrates Abu Dhabi's heritage and craftsmanship and connects them with the contemporary art practices of the emirate. The festival has quickly become a focus of inspiration and exchange for the emirate's cultural ecosystem, and a key element of DCT Abu Dhabi's drive to both preserve the emirate's treasured heritage and support and grow its new generation of artists and creative practitioners."
Activities At Al Hosn Festival
Activities at the festival will take place throughout the Al Hosn site, with Qasr Al Hosn offering visitors a glimpse into life in Abu Dhabi in the past, through live demonstrations of Emirati craftsmanship and artisanal techniques. The House of Artisans will also host creative workshops and competitions highlighting Emirati cultural excellence.
Also read: Ferrari World Abu Dhabi To Launch Mission Ferrari With World's FIRST Sideways Drop
The Cultural Foundation will feature an engaging and thought-provoking program of art exhibitions, performances, film screenings, interactive installations and workshops. The Makers Village, which showcases unique items created by local and regional artists and designers, will also return. Additionally, there will be a creative culinary experience for visitors to enjoy.
Also read: New 15 km Bike Trail Called Trail X Opens On Hudayriyat Island, Abu Dhabi
The Al Hosn Festival offers a unique opportunity for individuals to explore the cultural diversity and experimentation in the bustling city of Abu Dhabi, while still staying true to the emirate's traditional roots. The festival is in line with the mission of the Department of Culture and Tourism of Abu Dhabi (DCT Abu Dhabi) to preserve, promote and showcase the emirate's heritage as a cultural destination. The event provides a platform for artistic experimentation, public engagement, and also provides visitors a chance to immerse themselves in the rich heritage and creativity of Abu Dhabi through an enlightening experience.
شو فخاطركم تاكلون اليوم؟ اختاروا من كل المطاعم والمطابخ اللي تنقينها لكم وعليكم بألف عافية.

احجزوا تذاكركم الحين عن طريق https://t.co/5dvRWu4gWt pic.twitter.com/MtnrKrfxWz

— Al Hosn Festival (@alhosnfestival) January 15, 2023