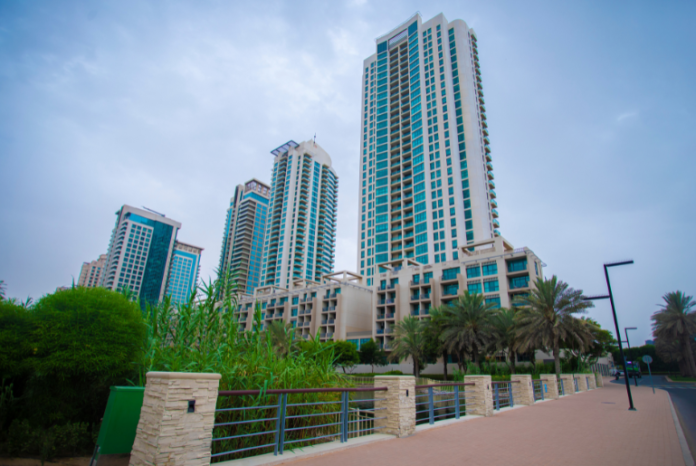 From fancy cars to picturesque skylines and insanely lip-smacking gold dishes, you name it, and Dubai has it. Be it the record-breaking stellar attractions or jaw-dropping grand prizes- everything is possible in Dubai. And while living a dream life in Dubai is on everyone's to-do, the ever-soaring rent prices and the insanely high fuel prices make us realize that some dreams are just dreams. However, we have a piece of crazy news that will STUN you. What if we tell you that you can now own a studio apartment in Dubai for AED50 ONLY? Yep, you read that right, a home in Dubai that costs less than a ticket to Burj Khalifa attraction, less than a full fuel tank and even less than your next meal; well, here's how you can win it. 
Participate In The Grand Draw Of Dubai Home Festival And Own A House In UAE
Idealz, in partnership with Dubai Festivals & Retail Establishment (DFRE), are powering the Grand Prize Draw of Dubai Home Festival that can legit change your life. All you have to do is download the Idealz mobile app or visit www.idealz.com and purchase a Rosa set for AED50 to get a ticket for the lucky draw. Enter the contest, and who knows? You might be the lucky one to own a home in the UAE! Now a lucky draw of this magnanimous level only takes place in Dubai, right? 
You must also know that the draw will be conducted live and telecast on national television during the Dubai Home Festival. 
Idealz Offers A Unique Shopping Experience Through Lucky Draws 
One of the most exciting online stores in Dubai, Idealz.com, established in 2016, always aims to offer a fun shopping experience to its customers. The innovative e-commerce site, which is known for its unique shop-and-win proposition believes in changing customers' lives for the better. From huge cash prizes to luxury cars, apartments, electronics, and so much more, Idealz ensures that its customers are always happy. 
Today, the homegrown e-commerce site has a loyal following in more than 130 countries and is known to transform lives uniquely. These lives include their customers, and less fortunate children around the world. With the purchase of every Idealz product, the customer gets a complimentary coupon, which lets them take part in the lucky draw that the product is associated with. Customers may also choose to donate the purchased product to Dubai Cares and thanks to a unique buy-back agreement that Idealz has with the charity, the value of the donated product is contributed towards the construction and operation of schools in less fortunate parts of the world. So far over 8 schools have been funded. 
If you are an avid shopper, then shopping on Idealz.com is something you shouldn't miss out on. In fact, during Eid Al Adha this year, in partnership with DFRE, Idealz produced 26 draws that were held live at Al Ghurair Center, Dubai Outlet Mall and Arabian Center in Dubai, with a Grand Prize of AED1 million that was won by Saud Altamimi from the UAE. At present, Idealz also has some other insane deals, where you can win AED2,000,000 cash, a 2022 Range Rover V8, a 2022 Tesla Model Y, or 500,000 Skywards Miles. 
If you are planning to take part in Apartment campaign, keep these things in mind. 
The campaign is the official grand prize of the Dubai Home Festival

You need to spend AED50 to enter the campaign 

The maximum draw date for the campaign is November 30, 2022. 
So what are you waiting for, start shopping right now, cause who knows, you might soon own a house in Dubai. Shop Here