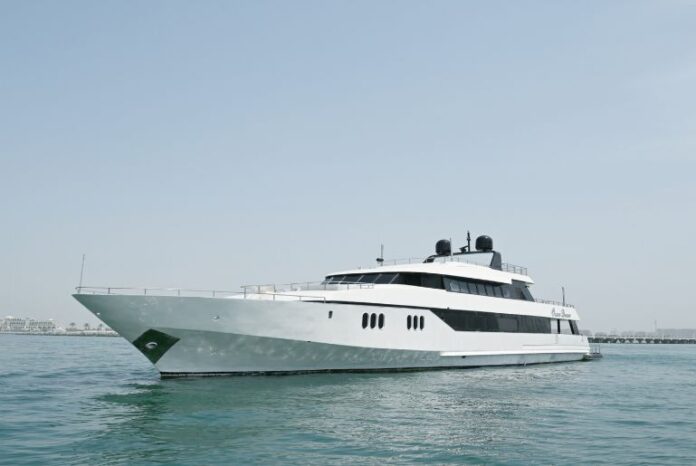 McGettigans is taking you on a 7-hour Daycation to a whole new world which is the the Dubai World Islands, to be specific!
Begin with premium beverages at McGettigan's JLT before being whisked away aboard a 150+ foot luxury boat. Guests will be entertained with live music and limitless beverages service while sailing the high seas and exploring over 10,000 square feet of lavish deck area. When you arrive in the World Islands, make your way to the Anantara World Islands Dubai Resort for a 2-hour all-inclusive luxury brunch. Enjoy luxury cuisine and beverages while admiring the distant Dubai cityscape and being entertained by a live band on a private island's outdoor patio.
This 7-hour all-inclusive World Island Daycation includes a luxury yacht ride, brunch at Anantara World Islands Dubai Resort, pre-party beverages, and an after-party at McGettigan's JLT.
The night just begins after your day trip is complete. Daytrippers are welcome to attend the afterparty at McGettigan's JLT and continue to enjoy the all-inclusive beverages package until 8 p.m.
So, prepare to sailibrate and board your once-in-a-lifetime daycation of your dreams!
What: World Islands Daycation: a 7-hour trip like no other!
Start with drinks at McGettigan's JLT with transport taking guests to a 150+
foot yacht.
Guests will be entertained onboard the luxury 10,000 sqft yacht with plenty of
drinks & music before arrival at World Islands.
They will then enjoy a 2-hour all-inclusive luxury brunch at Anantara World
Islands Dubai Resort.
The return journey will consist of more music & unlimited drinks, with coaches
ready to take guests back to McGettigan's JLT.
Daycation guests can join the afterparty at McGettigan's JLT and continue
enjoying the all-inclusive drinks package until 8 pm
When: Saturday 22 nd  October 2022, 1 pm – 8pm
Price: AED 990
Booking: McGettigan's Shop
FOLLOW US ON OUR SOCIALS