Dubai is stacked up high for cool and unique ways of doing things, even if they're as simple as a coffee shop. When I say Starbucks, what do you picture in your head? Long cues, brown wooden seating, green aprons, an overall mundane setting, right? Would you believe it if I told you Dubai is home to 5 of the most unique Starbucks locations in the world? And in honour of that, today, I'm going to take you Starbucks hopping – We'll visit all the various locations around the city so that you can see just how unique and beautiful each one is. So, without any further ado, let's jump right into it.
Also read: 18 Pet Paradises In Dubai: Beat The Heat At These Animal-Friendly Cafes
1. Bluewaters Island Starbucks Reserve
The Bluewaters Island Starbucks reserve was special curated for the being the 1000th Starbucks store. Their doors first opened in December 2021 and it's a one-of-a-kind marine-themed Reserve Store at the base of Ain Dubai, the world's largest observation wheel.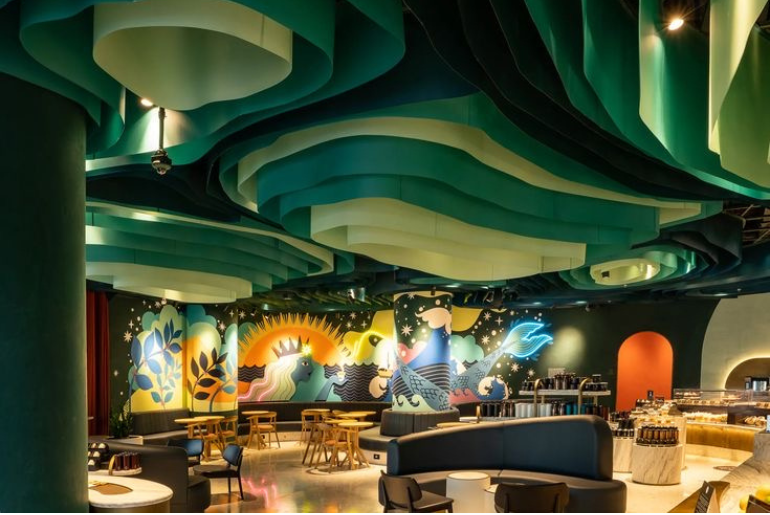 Quick Deets
Location: Bluewaters Island – Dubai
Timings: Open daily from 7 AM–1 AM
Contact: 04 419 0526
2. Dubai Creek Starbucks
Dubai creek is known for having exteriors fit to create the atmosphere of old Dubai souks, and this Starbucks location will make you feel like you've traveled back in time. Imagine enjoy a modern day coffee while reminiscing on the good old days, in a beautiful heritage house themed location.
Quick Deets
Location: Marsa – Al Seef St – Al Hamriya – Dubai
Timings: Open daily from 8 AM–12 AM | Thur-Fri 8 AM–1 AM
Contact: 04 419 0014
Also read: Dubai's Most Photogenic Eateries: 12 Cafes & Restaurants To Amp Up Your Social Feed
3. Ibn Battuta Mall Starbucks
The stunning interiors of Ibn Battuta Mall set as the backdrop of this Starbucks location will make you feel like you've been transported somewhere completely outside of Dubai.
Quick Deets
Location: Ibn Battuta Mall – Tunisia -3 – Jebel Ali Village – Dubai
Timings: Open daily from 7:30 AM–11:30 PM | Fri-Sun 7:30 AM–12:30 AM
Contact: 04 419 0031
4. Dubai Airport Starbucks
We know that waiting for your flight can be tiring, but it doesn't have to dull either. Starbucks made sure that your experience at their location in the Dubai airport wouldn't disappoint their coffee loving patrons. This location is sleek and elegant while still making you feel cosy while the warm smell of coffee surrounding you.
Also read: Dubai's Matcha Trail: A Journey through the City's Top 15 Matcha Cafes & Hotspots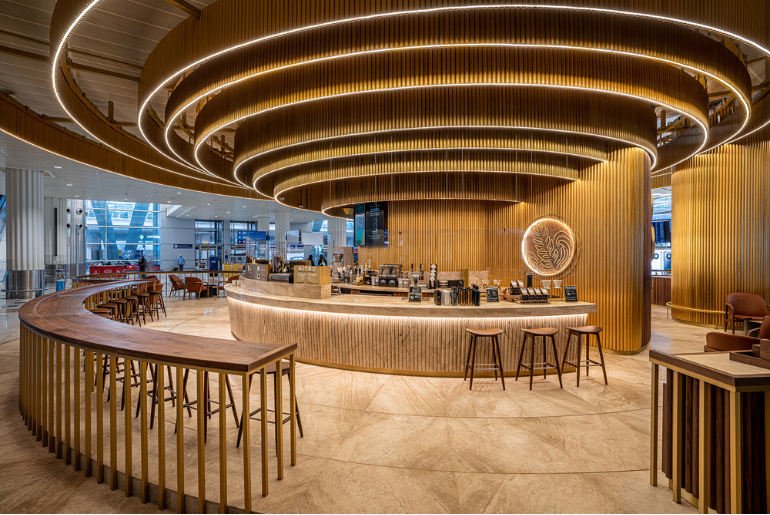 Quick Deets
Location: Dubai International Airport, Terminal 3 Departures – Dubai
Timings: Open 24/7
Contact: 04 220 3990
5. Dubai Mall Starbucks
This vibrant orange Starbucks has a strong allure to it, that makes it almost impossible to walk away from. What's a more fitting location than the worlds largest mall, I.E. Dubai Mall, to have one of the words most unique Starbucks locations.
Quick Deets
Location: Dubai Mall, Ground floor
Timings: Open daily from 8 AM–12 AM | Thur-Sat 8 AM–1 AM
Contact: 04 419 0095
You may also like: GulfBuzzRecommends: This Cafe In Dubai Is Located Inside A Horse Stable & Is Perfect For A First Date