It's soccer season & everyone is going crazy. There's football mania all over the UAE & we at Gulf Buzz have found some exclusive deals for you to keep the soccer mania at an all time high. Hyde Dubai is offering all Italians & women an exclusive deal where they only pay AED 20 on all drinks served across the hotel's restaurants and bars during the matches.
Drinks At AED 20 For Women & Italians At Hyde Dubai
Hyde Dubai offers to be the official hub for Italians to eat and drink their woes away as they watch an entire season of matches without their favorite national soccer stars. Women have access to the same offer, because not going to lie – we deserve some perks! 
Also read: Best New Year Parties 2023 In Dubai For All Budgets ; Kid Friendly, Live Performances & More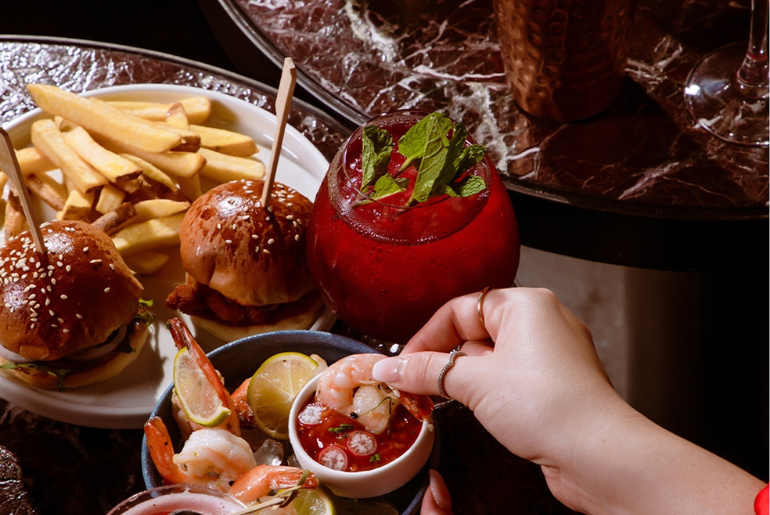 You can avail the offer at award-winning Katsuya and New York style speakeasy, Hudson Tavern. They will not only offer live screening of all the matches, but also a chance to revel in the spirit of football with fun activities and fantastic food & beverage packages. 
Katsuya At Hyde Dubai
Soccer fans are in for a treat as Katsuya's Head Chef Pavel Nigai and his league of talented chefs have curated a special selection of premium and authentic Japanese bites that guests can indulge in throughout the sporting season, as the award-winning restaurant's outdoor shisha lounge has been transformed into a football fan zone.  
The menu includes their best-selling dishes including the Chicken Karaage, Robata Skewers, Nori Chips with Nagasaki Tuna, and Japanese Wagyu Tacos. Who doesn't love a good burger? One that's certainly not to miss is the limited edition Katsuya Japanese Burger Set which includes: Wagyu Burger made with 100% Japanese Wagyu beef patty, wasabi pickles and teriyaki sauce; Japanese-flavoured fries; and Asahi Super Dry Beer from Tokyo. All this for only AED 100.  
Also read: UAE Public Holidays 2023 List : 14 Holidays Next Year & 4 Long Weekend Ideas
Drink packages are also available during the matches including AED 169 for unlimited house beverages and AED 219 unlimited house beverages with light bites. 
Football packages & promotions offered at Katsuya Dubai:  
AED 169 per person – Unlimited house beverages
AED 219 per person – Unlimited house beverage and bites
Ladies and Italians get AED20 on all drinks from the a la carte menu
 *Packages and promotions above are available throughout the duration of the matches  
Details:
Date: Everyday from November 20th to December 18th
Time: Open from 12:00pm to 11:00pm
Location: Katsuya on the 4th Floor of Hyde Hotel Dubai, Business Bay
Call: +971048711016 OR WhatsApp here
To know more, visit Katsuya Dubai
Get social: Instagram
Hudson Tavern Football Fan Zone At Hyde Dubai
If you fancy a more lounge-y, cozy and sophisticated vibe whilst watching your favorite soccer stars in action, then Hudson Tavern Dubai at Hyde Hotel is right up your alley.  
Also read: Possible 2023 Dates For Ramadan, Eid Al Fitr Predicted ; 4 Day Long Weekend Expected
Serving up tasteful, modern American cuisine and master mixology, this stylish bar is the perfect venue for groups of friends and work colleagues, as it features spacious leather booths built into cozy corners.
Hudson Tavern speakeasy invites guests to cut loose and catch the game over sumptuous craft burgers, succulent chicken wings and other elevated bar bites paired with refreshing brews and impressive cocktails.  
Get ready to toast to one heck of a soccer season!  
Football packages & promotions offered at Hudson Tavern Dubai:
AED 99 – One pint of Heineken + chicken wings platter
AED 99 – Three pints of Heineken
AED 109 – One pint for beer + one burger
AED 150 – One bucket of beer (X5 Heineken)
AED 169 per person – Unlimited house beverages
AED 219 per person – Unlimited house beverage and bites
Ladies and Italians get AED 20 on all drinks from the a la carte menu
Also read: World's Tallest Residential Tower Burj Binghatti To Be Built In Dubai ; Over 100 Storeys Tall
*Packages and promotions above are available throughout the duration of the matches
Details:
Date: Everyday from November 20th to December 18th
Time: Open from 4:00pm to 11:00pm
Location: Hudson Tavern on the 4th Floor of Hyde Hotel Dubai
Call: +971048711016
To know more, visit Hudson Tavern Dubai OR WhatsApp here
Get social: Instagram