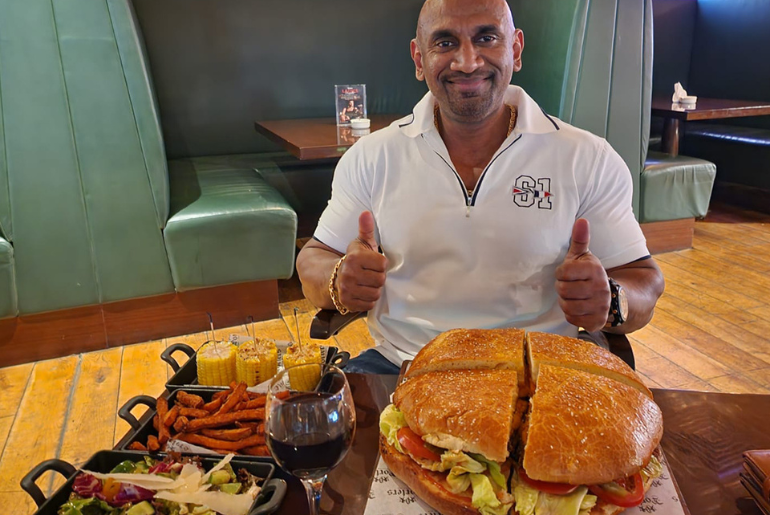 Are you ready to test your limits and take on an eating challenge that will push your appetite to the brink? Well, hold on tight because Porter's English Pub at Grand Millennium Al Wahda is presenting the ultimate culinary dare: The Big Daddy Burger Challenge! Picture this—a monstrous 1kg pure black Angus double beef patty stacked with fresh lettuce, juicy tomato slices, crispy dill chips, and a mountain of delectable cheese. The catch? You have a mere 30 minutes to conquer this gargantuan creation all by yourself.
Also read: Musical Sensation Charlie Puth Is Set To Take Abu Dhabi By Storm This Year.
A Feast Fit For The Brave
Prepare yourself, for the challenge doesn't end with the colossal burger alone. Oh no, my friend, there's more to this epic test of gastronomic prowess. Alongside devouring the Big Daddy, you must also conquer and finish three sides to emerge victorious: a serving of delectable sweet potato fries, a refreshing green salad, and a tantalizing Mexican-style street corn on the cob. It's a full-on flavor frenzy that demands speed, strategy, and an insatiable appetite.
Conquer Or Be Conquered
The Big Daddy Burger Challenge has seen eight brave souls step up to the plate, but as of yet, none have managed to triumph over this culinary behemoth. Now, the question remains: Will you be the one to break the record and secure your place in burger-eating glory? If you think you possess the tenacity and voraciousness required, head over to Porters and take on this monumental challenge. The doors are open from opening until midnight daily, welcoming contenders brave enough to face the Big Daddy.
Also read: GIVEAWAY ALERT: Win A Brunch For 2 At Apricot; An Indoor Garden In Downtown Dubai
The Stakes Are High
Now, here's the kicker—this colossal burger experience comes with a price tag of AED 259. However, if you manage to conquer the challenge within the 30-minute time limit, you won't pay a dirham. That's right, your glorious triumph will not only earn you a satisfied stomach but also a complimentary meal as a reward for your Herculean feat.
Gear Up And Dig In
Prepare yourself for the ultimate gastronomic showdown and put your appetite to the test. The Big Daddy Burger Challenge awaits you at Porters English Pub, located in Grand Millennium Al Wahda. Will you emerge victorious or be humbled by this culinary titan? Only time and your appetite will tell. Remember, fortune favors the bold. Good luck, brave challenger—you're going to need it!
Quick Deets
Location: Porters English Pub, Grand Millennium Al Wahda, Abu Dhabi
Timings: Mon-Thu 4 pm-midnight; Fri-Sun noon-midnight
Offer: Big Daddy Burger Challenge AED 259 (free if finished within 30 minutes)
Contact: 02 495 3936
You may also like: Abu Dhabi Summer Sports Expands To Al Ain