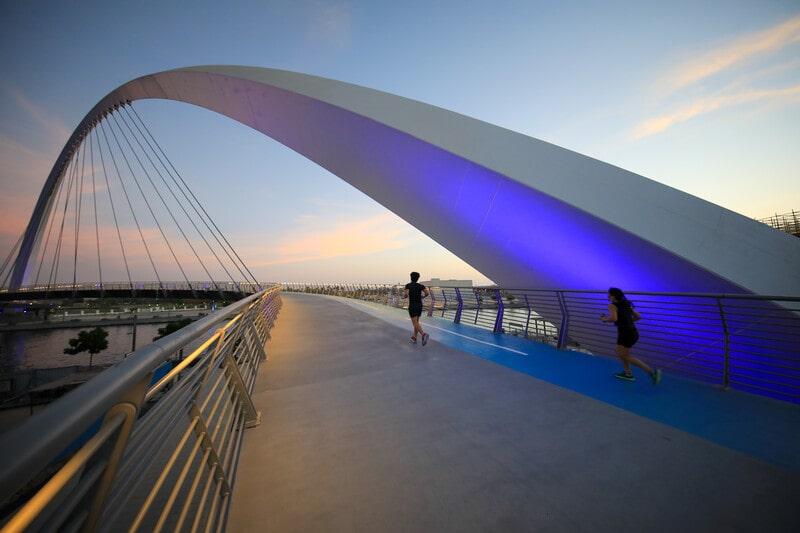 Yes, you read it right. On 27th November 2020, Dubai will host Dubai Run, the biggest citywide fun run. It is open for participation by residents and visitors alike. This exciting fun run is brought to us by The Dubai Fitness Challenge (DFC), in association with Fitbit and Cigna and presented by Mai Dubai.
It is open for all age groups and fitness levels! You get to choose your own distance, location, starting time and speed. The only thing mandatory is to have fun! The track reaches from Jebel Ali to Jumeirah and from Downtown to Dubai Creek.
To make things more interesting and help us prepare for the fun run, there are professional coaches and athletes at our service. DFC is here with six 28 days running training programs that have especially
been developed by experts. Coaches include Manal Rostom, Tania Lolla Kaddoura, Abdullah bin Hajjar, Luke Mathews, Lee Ryan and Luke Gaffney.
It doesn't matter whether you're taking on a 10 km challenge, or a 5 km run or a 2 km fun route – expert guidance is available on the Dubai Run website for us all.
The wonderful initiative of the Dubai Run has partnered with Dubai Cares in order to support students whose lives have been disrupted by this year's challenges. While we all enjoy this free to enter fun run, we are invited to support "Education Uninterrupted", a fundraising campaign spread across the nation. This campaign tackles the impact of the COVID-19 outbreak on the education of children and youth in the UAE.
For registration or more information on this brilliant event, please
FOLLOW US ON OUR SOCIALS 
Facebook | Instagram | Youtube