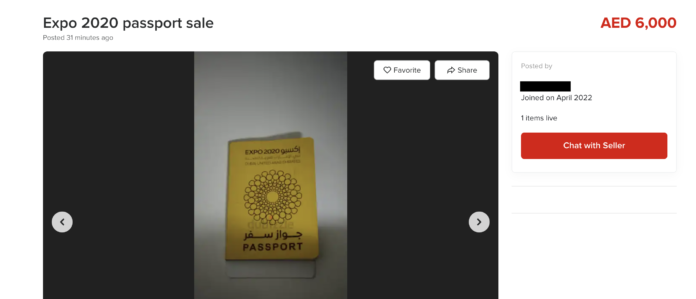 In today's bizarre news, you could just make some money from selling your old Expo 2020 passport. Expo 2020 may have ended 6 months back, but clearly Expo fever hasn't. Old Expo 2020 passports are selling for anywhere between AED 1000 to AED 5000 on Dubizzle. Here's how you can go about buying or selling it:
Old Expo 2020 Passports On Dubizzle
A lot of people are listing their yellow & white passports on Dubizzle. Dubizzle is a free classifieds website in Dubai to buy, sell and find anything. So how does the pricing work? Apparently the higher the number of stamps on your yellow passport, the more valuable it is.
In fact, the highest value is the limited edition white passport – that was given out only in the last month of Expo 2020 for those who had over 100 stamps on it. Move aside crypto, because Dubai residents have just found a new way to make money!
Another passport with a high asking price comes from those with limited edition stamps. Higher the number of these stamps, the more the value of the passport. Several limited-edition stamps were released at Expo 2020 like the Gotham Batman pavilion, one for mother's day and of course the extremely coveted closing day stamp.
It is to be noted though that these passports have been listed on Dubizzle. Whether it sells is a different story altogether.
Current Expo 2020 
Expo City Dubai Announces Sports & Fitness Weekend With Fun Free Activities In November
Details:
Address: X562+974 – Al Wasl Avenue – Dubai – United Arab Emirates
How To Get There: Using the metro is the most appropriate way to reach the site, noting that the metro lines operate daily in both directions.