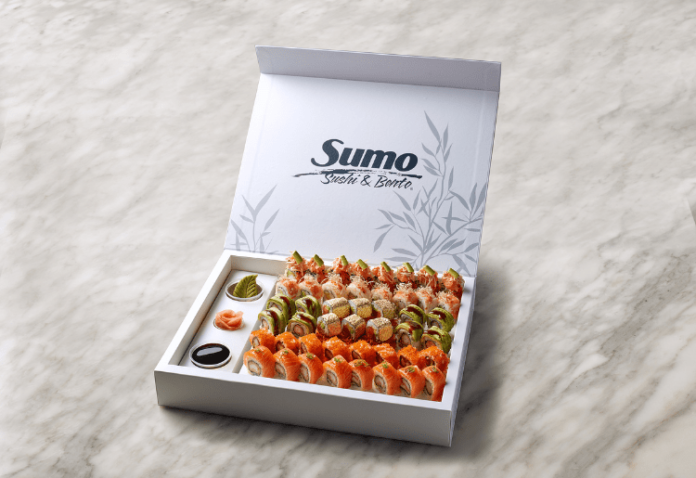 Ever heard of Gold in Sushi? This Sushi restaurant in the UAE is launching its first-ever Gold Sushi Box. Sumo Sushi & Bento, is one of the Japanese originators in the region for more than 21 years, providing a unique family-friendly, Japanese dining experience to its patrons across 15 outlets in the UAE. Launched recently, the box consists of 46 pieces of sushi rolls, with 6 pieces of sushi Roll wrapped in edible 22 karat gold.
Available at just AED 500, Sushi fans will be able to indulge in flavours of gold in the newly
launched Gold Sushi Box. They will also have access to a raffle draw entry, with a chance to win AED 50K worth of gold. Sushi aficionados can avail of this offer at any of the participating outlets located at Dubai Media City, Jumeirah Lakes Towers, Town Center and Al Murooj until 16th October. It is valid for dine-in, take away and delivery. The winners of the raffle draw will be announced on 26th December, 2021 .
"Dubai is well-known for its glittery lifestyle, fabulous architecture, and fine-dining restaurants. After a phenomenal response to the Fashion Meal; we developed this unique product incorporating customers' favourite rolls with an added gold embellished roll for the discerning customer. As such, introducing a Gold Sushi Box was a natural fit. We are only selling 500 boxes which means that the chances of winning are much higher." said Ms Julianne Holt-Kailihiwa, CEO, Sumo International Inc. LLC.
For more information, please visit:
https://sumosushibento.com or https://www.instagram.com/sumosushibento/ or call 800-7866(SUMO) for more details.
FOLLOW US ON OUR SOCIALS