Tomorrow, Saturday 8th October is Prophet Muhammad's birthday, and other than it being a national holiday – you will also be getting free public parking and get access to free public transport in Abu Dhabi & Sharjah. Read on to know the deets.
Abu Dhabi Parking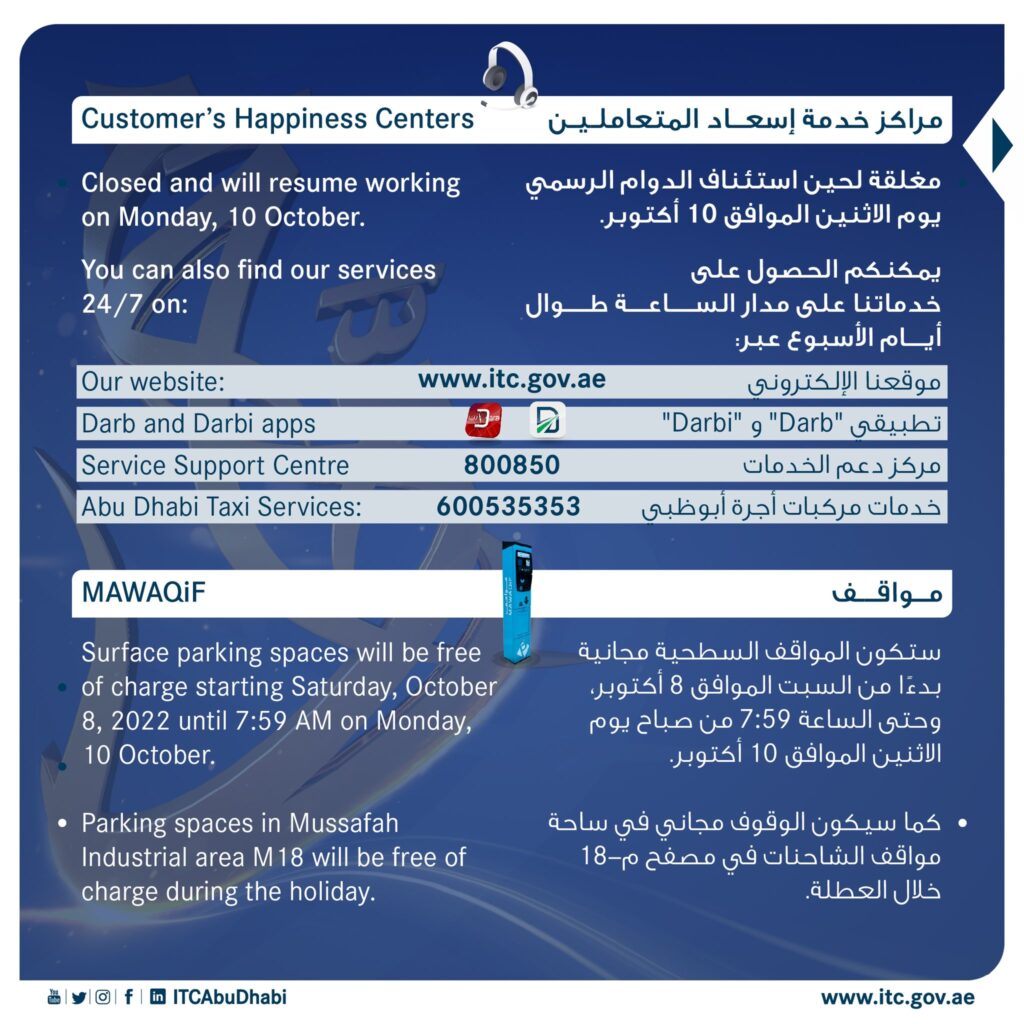 Free surface parking: 'Surface parking', which excludes the multi-storey car parkings in the Emirate, will be free of charge during the holiday, starting from Saturday until 7.59 am on Monday, October 10. Parking spaces at the Musaffah M-18 truck parking lot will also be free of charge during the official holiday.
Also read: Abu Dhabi's Al Ain Mall To Host City's First Anime & Gaming Con
The ITC has also called on drivers to avoid parking in prohibited areas and blocking traffic movement. It also urged drivers to park properly in the designated areas and to avoid parking in residential parking spaces from 9:00 PM until 8:00 AM.
No DARB toll fee: The ITC declared that the Darb toll gate system will be free of charge during the holiday on Saturday, and will resume on Monday October 10), during the regular peak hours (from 7am to 9am and from 5pm to 7pm).
Public Bus Services: As for the operating hours of public bus services in the Emirate of Abu Dhabi, the ITC stated that the bus services will operate based on the usual unified schedule throughout the week.
Also read: Rare 'Pure-White' Falcon Sells for AED 1 Mn At Abu Dhabi Hunting Exhibition
Customer Happiness Centres: Customers' Happiness Centres across Abu Dhabi will be closed on Saturday, October 8. However, customers can use the authority's website – itc.gov.ae, as well as the 'Darb' and 'Darbi' smart apps, which are available for both Apple and Android devices and also contact the call centre on 800850.
Sharjah Parking
The decision excludes the paid parking spaces in the zones, which are subject to the paid parking system during weekends and official holidays. The paid zones can be identified by the blue parking information signs.
Also read: Sharjah To Build New Mosque At Al Hirah Beach