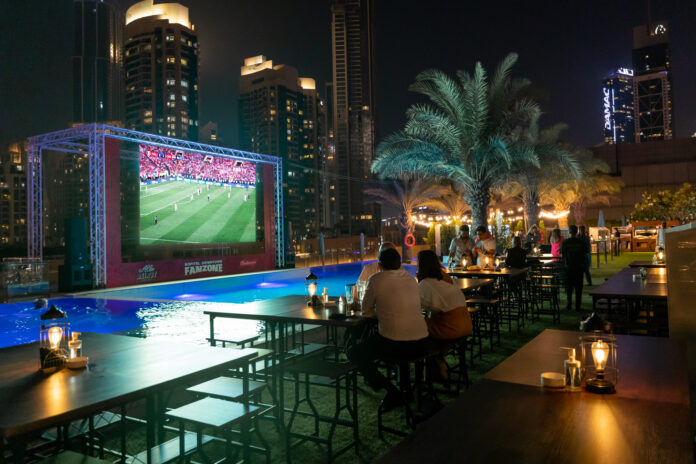 We're bringing you the best & most luxurious football extravaganza right here in Dubai featuring a giant screen, an infinity swimming pool, live music and VIP packages.
The world's most popular sporting event is starting soon. With the world's best battling it out on the pitch, you need top class viewing to catch all the live action. That's why we are recommending Sofitel Dubai Downtown's outdoor Fan Zone which offers what every football fan wants – games, goals and joie de vivre.
Also read: New Attraction Alert! Global Village Launches Brand New Outdoor Snowfest Ice Rink
Sofitel Dubai Downtown's Outdoor Fan Zone
From November 20th to December 18th, up to 550 guests can savour five star service as part of the Fan Zone's immersive sports viewing experience. Featuring a giant screen and surround sound system beside the hotel's Insta-worthy infinity pool, fans can revel in every moment of the action. In addition, live entertainment and football-themed activities will keep the vibe going during halftime and between matches.
Also read: Things To Do In Dubai In November 2022; Concerts, Shopping, Food & Free Activities
Of course, a Fan Zone isn't complete without outstanding food and beverage options. Whilst cheering on their favourite teams, guests can enjoy a specially curated menu by Sofitel Dubai Downtown's partner, street-food icon Allo Beirut, whose mouth-watering signature dishes are legendary. Fan Zone sponsor Budweiser has also crafted exciting offers to keep visitors refreshed as they watch the world's most thrilling football tournament.
Basic Package At Sofitel Dubai Downtown
Individual bookings start at AED 100 for the basic package, including three drink vouchers for soft beverages and premium house drinks.
Platinum VIP Area At Sofitel Dubai Downtown
Make your viewing experience magnifique with high-top tables, which accommodate up to eight people, 40 bottles of hops, a choice between one bottle of house spirits or two bottles of red, white or sparkling grape, and a generous Allo Beirut signature food platter.
Price: AED 2500 per table
Also read: UAE Public Holidays 2023 List : 14 Holidays Next Year & 4 Long Weekend Ideas
Gold VIP Area At Sofitel Dubai Downtown
Watch the battle for football glory with high-top tables that accommodate up to six people, 30 bottles of hops, or two bottles of red, white or sparkling grape, and a generous Allo Beirut signature food platter.
Price: AED 1200 per table
For all inquiries and bookings at Sofitel Dubai Downtown
Email: sddreservations@sofitel.com
Phone: 04 503 6333 or WhatsApp: +971 56 996 0582
Website: Sofitel Dubai Downtown