UAE celebrates Prophet Mohammed's (PBUH) Birthday next week by announcing a public holiday from Saturday, September 29th till October 1st, marking it as the last official long weekend of 2023. So, to commemorate this joyous celebration, here is a list of the top things you should do around Dubai that will make for a really fun long weekend.
Also read: Dubai Is Hosting 2 Spectacular Fireworks Displays This Weekend To Celebrate KSA's National Day
1. Enjoy The Newly Opened Soft-Play Indoor Parks For Kids, Leo & Loona
This long weekend calls for a fun-filled family outing! Dubai Festival City Mall is now home to Leo & Loona, a brand-new indoor play park designed for kids aged 10 and under. Spanning a whopping 2,200 square meters, this playground paradise offers over 30 attractions, including a giant soft play area for both toddlers and infants, trampolines, ball pools, climbing walls, and more. Get your kids beaming with joy by gifting them a full-day pass for just AED 179 during the weekdays and AED 229 full-day pass during the weekend. Open from Friday to Sunday, 10 am to midnight. It's time for family fun at Dubai Festival City Mall!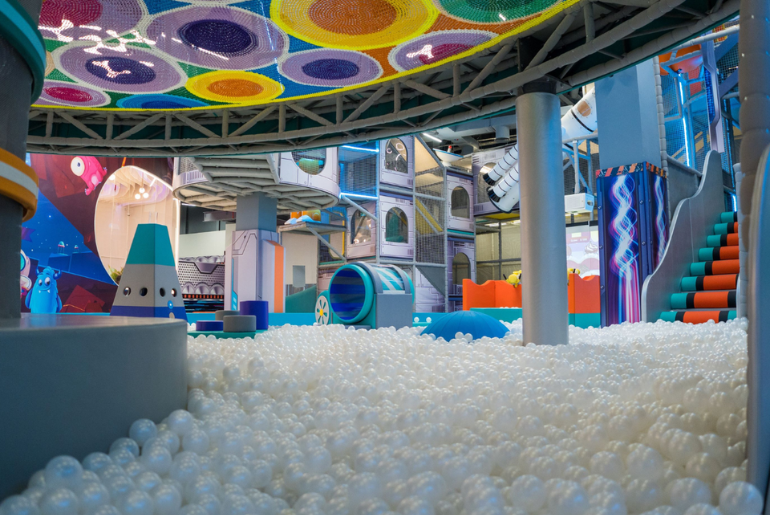 Quick Deets
Location: Festival City Mall – 2nd floor – Crescent Rd – Dubai Festival City – Dubai
Timings: Open daily from 10 AM–11 PM | Fri-Sun 10 AM–12 AM
Contact: +971 4 894 7117
Visit the Leo & Loona website for more information and to book your tickets.
Also read: Dubai To Get New Indoor Soft-Play Park For All The Kiddies To Enjoy With 30+ Attractions
2. Discover The Latest Spectacle At DREAM Dubai!
DREAM Dubai is Currently running on their 4th season, presenting 'The Wild Side,' an awe-inspiring show that whisks you away on a journey through the untamed beauty of nature. As you enjoy the 13 captivating performances, tantalise your taste buds with a delectable Mediterranean feast (and don't miss their fresh mixed drinks!).
Quick Deets
Location: Address Beach Resort – The Walk – Jumeirah Beach Residence – Dubai
Timings: Wednesday to Sunday 8 PM–3 AM | closed on Mondays & Tuesdays
Contact: 04 220 0224
3. Swim, Hug & Play with The Cutest Dolphins
This long weekend join the Dubai Dolphinarium and enjoy a fun-filled afternoon surrounded by the cutest dolphins. Depending on the package that you choose – Majestic Deep Swim or Shallow Water Experience – you will get 20 minute session to have as much fun as you can with your sweet little dolphin companion. This activity will be sweet treat fro the whole family and you won't want to miss out.
Quick Deets
Visit Their website for more details.
Also read: This Place Let's You Swim, Play And Hug The Cutest Dolphins & No, It's NOT Atlantis
4. Spoil Yourself With At En Fuego's New Ladies Night – Viva La Noche'
A hot new ladies' night event is coming to Dubai, and it's all happening at Atlantis The Palm's En Fuego. It's called 'Viva La Noche' Ladies Night, and it's exclusively for ladies aged 21 and over. The fun kicks off at 9 pm and keeps going strong until 1 am.  For just AED 149, you and your gal pals can indulge in a sumptuous two-course meal. You have options! If you're craving savoury delights, go for a starter and a main course. If your taste buds lean towards the sweeter side, go for a main course and a delectable dessert. And here's the icing on the cake – you'll also get three beverages to keep the party going. But wait, there's more! For AED 225, you can upgrade to a three-course meal and enjoy three beverages to match. Dance the night away with this amazing deal!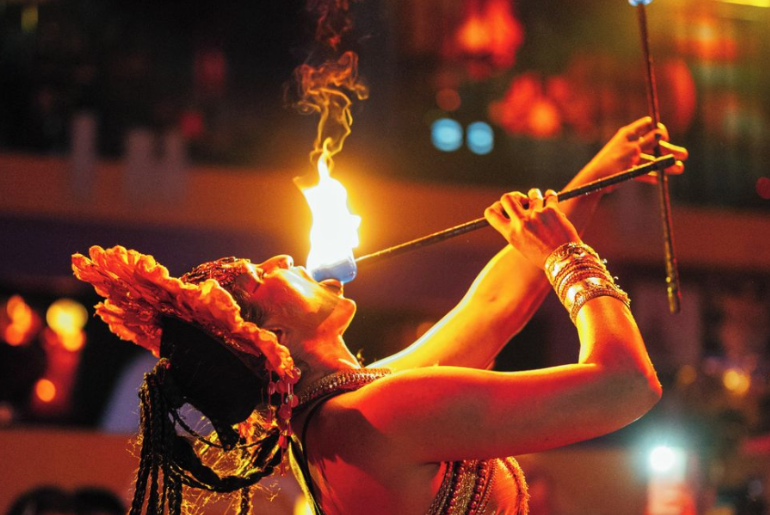 Quick Deets
Location: Atlantis The Palm – Crescent Rd – The Palm Jumeirah – Dubai
Timings: Tue-Thur & Sun  5 PM–1 AM | Friday 5 PM–2 AM | Sat 1–6 PM, 7 PM–2 AM | closed on Mondays
Contact: 04 426 2626
5. Try out Dubai's Biggest Khinkali 
Shvili, the Georgian Cuisine restaurant nestled in Dubai Hills Mall, is making waves with its unique culinary creation – Dubai's largest Khinkali. This extraordinary dish takes the traditional Georgian Khinkali to a whole new level by stuffing it with mini Khinkali, which, in turn, are filled with the classic combination of minced meat, onions, herbs, and spices. The result is a culinary masterpiece that offers a delightful explosion of flavors in every bite. If you're new to Georgian cuisine, trying this giant Khinkali at Shvili is an absolute must. It's a delicious introduction to the rich and savory world of Georgian flavors, sure to leave you craving for more.
Quick Deets
Location: Dubai Hills Mall
Timings: Open daily from 10 AM–12 AM
Contact: 052 929 2088
Also read: 4 Extreme Dishes In Dubai That You Need To Try At Least Once
6. Indulge In Punjab Grill Dubai's Special Celebration Menu
Feeling the craving for Indian cuisine this long weekend? Head over to Punjab Grill inside Anantara Downtown Dubai, celebrating its second anniversary with a delightful set menu. Priced at AED 300 for vegetarians and AED 350 for non-vegetarians, savour a range of starters, kebabs, salads, curries, and desserts all through September. Join the celebration at Anantara Downtown Dubai, Downtown, and make your taste buds dance with joy!
Quick Deets
Location: Anantara Downtown – Lobby Level – Marasi Dr – Business Bay – Dubai
Timings: Open daily from 11:30 AM–11:30 PM
Contact: 050 194 1107
7. Dine At Dubai's First 24/7 Raining Street
Step foot foot into Dubai's first and only 24/7 rain street – where the rain quite literally never stops. Rainy Street, located in Côte d'Azur Resort – The Heart of Europe Hotel is situated right off the mainland of Dubai, on The World Islands and will make an incredible getaway for the whole family to enjoy for the long weekend. Lets the cool rain wash away the remains of the Dubai summer heat as you relax and savour your food and quality time with the family.
Quick Rainy Streets Deets
Location: Côte d'Azur resort, World Islands, Dubai
Contact: 800 38 76 73
Also read: Enjoy Endless Rain This Summer Without Getting Wet At This Place In Sharjah
8. Dine Out with the Kids for Free at The Surf Café by Leen's
Looking for a family-friendly dining experience? Head over to The Surf Café by Leen's in Jumeirah, where they're offering a fantastic "Kids Eat for Free" deal every day, welcoming little ones under the age of 12. While you savour the delights of freshly-prepared sushi, salads, poke bowls, burgers, and delectable sweets with a side of coffee, your kids can indulge in complimentary meals from the specially-crafted kids' menu. This offer runs daily until Tuesday, October 31.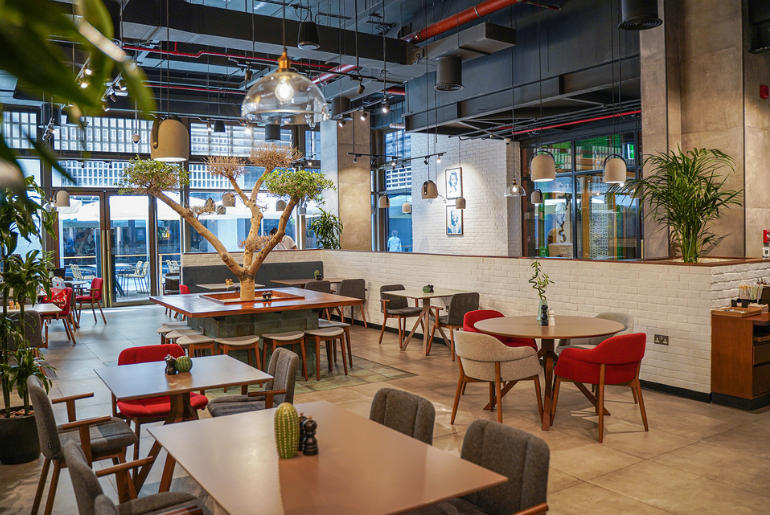 Quick Deets
Location: Jumeirah Beach Road
Timings: Open daily from open from 8:30 am to 10:30 pm
Contact: 04 346 6292
9. Discover the Chic New Lounge, Savant, at SO/Uptown
Looking to make the most of your extra weekend day? Explore one of Dubai's latest hotspots at Savant in SO/Uptown. If you appreciate elevated spaces, Savant should be at the top of your must-visit list. Sip on crafted mixed drinks and savor bar snacks like veal katsu sando, truffle croquettes, chips with seaweed dust, crispy calamari, and butternut as you take in the stylish ambiance. Savant is open daily until 2am (with food service until 1am and last drinks order at 1.30am). Experience it now at Uptown Dubai – so-hotels.com/uptown-dubai or call 04 820 8888 for reservations.
Quick Deets
Location: SO/ Uptown Dubai – Uptown – Dubai
Contact: 04 820 8888
Also read: #GulfBuzzHack: Find Out How To Unlock 50% Off At Dubai's Latest Luxury Hotel & More!
10. Take A Fragrance Making Class & Design Your Own Signature Scent
If you're looking for a wonderfully unique experience this long weekend, then may I suggest a fragrance making class? Oo La Lab is a fragrance Lab situated in Alserkal Avenue, Al Quoz is the perfect group or solo activity to do in Dubai is you are someone who is obsessed with perfumes and beautiful smells. You can use this class as a way to whip up your new signature scent or to create a meaningful present to gift someone special in your life.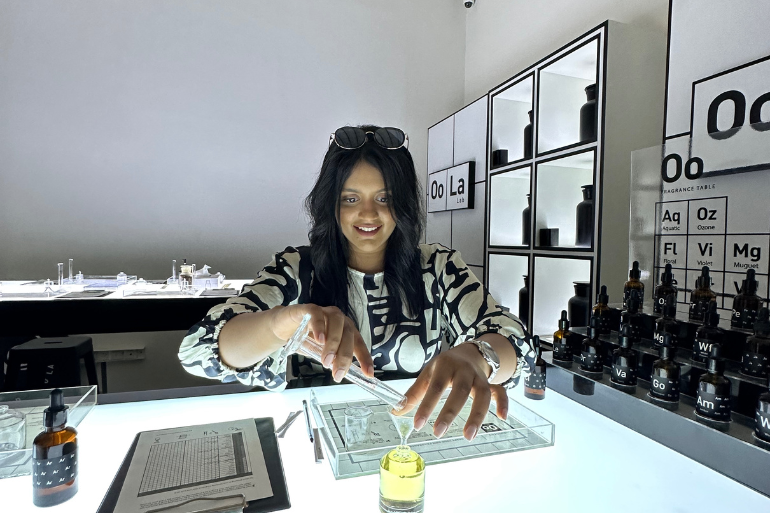 Quick Deets
Location: Alserkal Avenue 17 – 17th St – Al Quoz – Dubai
Timings:10 AM–8 PM (timings may differ during Eid Al Adha Holiday)
Contact: +971 52 361 2813
You may also like: These Seasonal Attractions Are Reopening In Dubai – Find Out Which Ones Inside