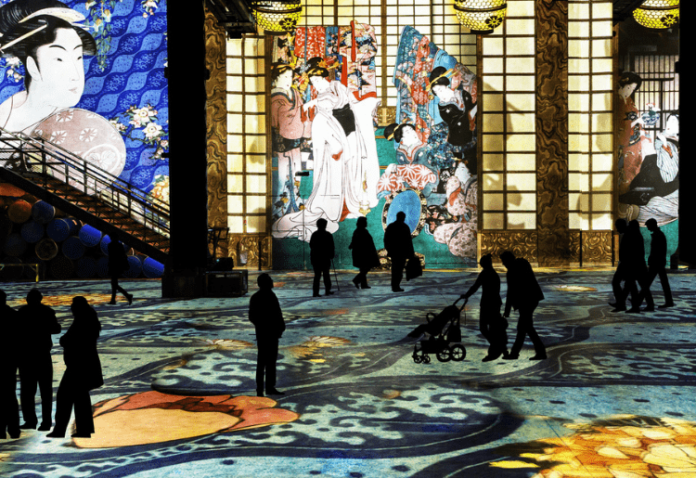 We're excited to share the brand-new partnership between InfinityArt and Culturespaces Digital at Dubai's Infinity des Lumières! In collaboration with Culturespaces Digital – the most renowned pioneers in creating digital art centers, InfinityArt will introduce a completely innovative, technology driven art and cultural platform, thus contributing to Dubai's profile as the City of the Future.
As a ground-breaking concept, spread over an impressive 2,700 sq. metres within The Dubai Mall, Infinity des Lumières will bring to life iconic and contemporary art through 130 projectors, 58 speakers and an incredible 3,000 HD digital moving images.
Van Gogh, Dreamed Japan and Verse exhibitions, will run simultaneously at the Infinity des Lumières, guiding visitors through diverse imaginative worlds, where images come to life as a wondrous animated symphony of light, colour, sound, movement and rhythm.
Luc Archambeaud, Head of Business Development of Culturespaces, commented, "We are
delighted to bring these impressive immersive digital art exhibitions to the most visionary,
vibrant and future-oriented city of the GCC. For the first time in this region residents and tourists alike will have the opportunity to experience an unforgettable multi-sensory journey, as they watch art come to life all around them – a feeling that is enchanting, entertaining, and educational."
Catherine Oriol, Director of Infinity des Lumières, explained, "We are thrilled to be working in partnership with Culturespaces Digital in establishing our technology-driven, engaging, and transformative platform. Visitors will have infinite possibilities to be at the center of art, fully immersed and connected to it. The inspiring exhibitions speak universally to different audiences, of all ages and cultural backgrounds."
Facebook | Instagram | Youtube