From Limited Edition Doughnuts
To Crazy Deals 
We all love chocolate and its time to come together and celebrate International Chocolate Day on 07.07.2022. And to mark this occasion UAE bakeries, cafes and restaurants have come together to make sure you have a memorable chocolate day with its chocolaty deals 
1. Chocolate Glazed Doughnuts Krispy Kreme
ITS BACK. Krispy Kreme limited edition Chocolate Glazed Doughnuts is back for international chocolate day. Every year Krispy Kreme launches these special chocolate glazed doughnuts around the world only to celebrate this occasion. This once-in-a-year mouth watering experience to try the Chocolate Glazed Doughnut will run from 07.07.22 – 11.07.22 and it will be available at every Krispy Kreme outlet.

2. Nutella-Chocolate & Banana Pizza at SFC Plus 
Pizza for dessert? Why not? SFC Plus offers a decadent pizza base loaded with Nutella chocolate and banana. The medium-sized pizza is priced at AED 26 and is available at all 26 outlets of SFC plus across the UAE. 

3. 50% Off All Chocolate Pastries At The Hummingbird Bakery
You can never say no or get enough of good chocolate pastries. The Hummingbird Bakery is known for its delcious cakes and cupcakes while not to forget they are supper instaworthy as well. To celebrate international chocolate day they are giving 50% Off All Chocolate Pastries on that day. 

4. Chocolate-Nutella Dosa at Yummy Dosa
A lot of chocolate is never a lot of chocolate , and Yummy Dosa agrees with it. Celebrate every day as a Chocolate Day at Yummy Dosa with their special Chocolate Nutella Dosa. The perfect layers of chocolate and Nutella Spread over freshly prepared hot and crunchy dosa satiate all your sugar cravings. Priced at AED 28.

5. Chocolate Mousse on the House at Jehangirs
We all love a chocolate mousse and to add to this excitement Jehangirs is giving you a free chocolate mousse this international chocolate day if the table bill crossed AED 150. Take your fork and dig into the silky soft chocolate dessert which sprinkled with Cinnamon powder & is hard to say no too.

6. Sizzling Chocolate Brownie At Yoko
One of the oldest spot in UAE this place is surely serves one of the best place sizzling brownies in town. It surely offers the most tempting chocolate brownie topped off with Vanilla ice cream and nuts on a hot sizzling plate. You will always need a partner to wipe off the dessert at Yoko Sizzlers. The Chocolaty dessert is priced at AED 22

7. Vegetarians Sizzling Brownie At Sagar Ratna 
Vegetarians! Are you looking to indulge in a gooey hot sizzling brownie topped with ice cream and nuts? Head straight to the veg and vegan-friendly restaurant Sagar Ratna in JLT & Oud Metha, on this international chocolate day to treat yourself with this heavenly hot and sizzling chocolate treat sans eggs ! Priced at AED 20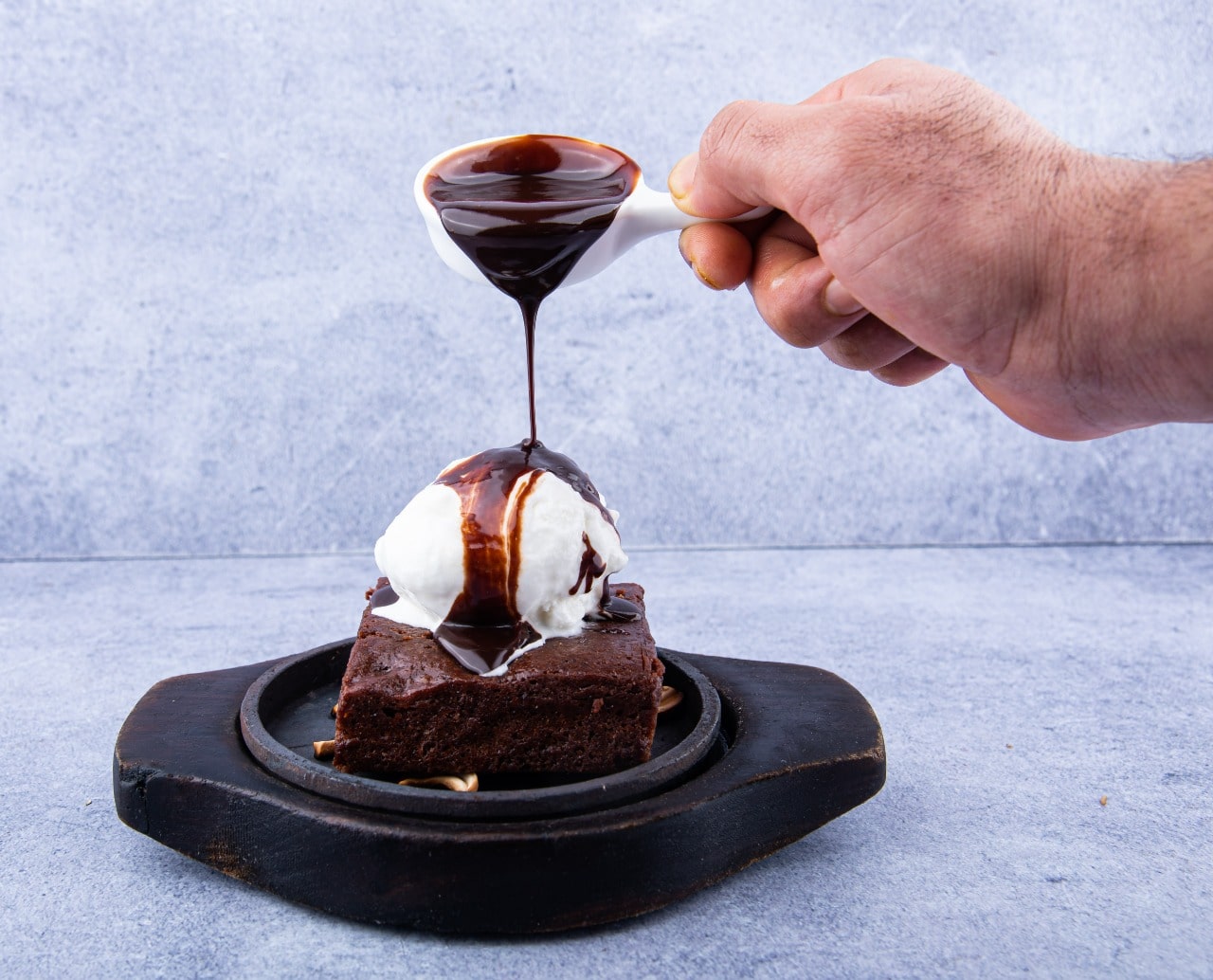 FOLLOW US ON OUR SOCIALS