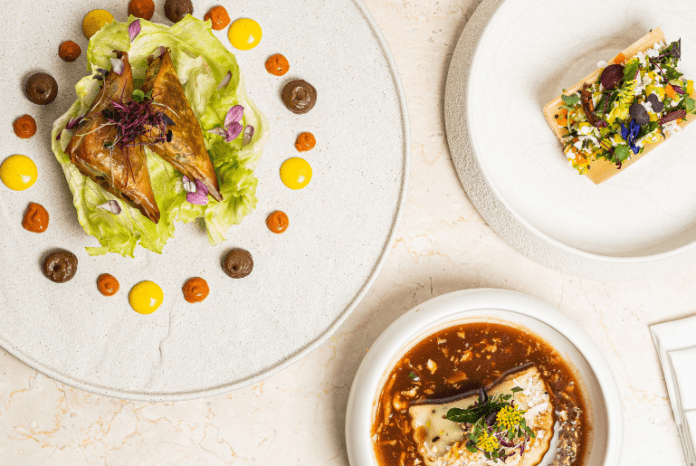 World Vegetarian Day has been around 1977, and this year is no different. On Sunday, October 1st, celebrate this beloved day with these amazing deals around Dubai. Whether you're a hard-core vegetarian or watch to indulge for just one day only, these restaurants are sure not to disappoint.
Also read: 7 Best Vegan Restaurants In Dubai That You Have To Try Once
1. Savor Plant-Based Perfection At Punjab Grill On World Vegetarian Day
On October 1st, celebrate World Vegetarian Day in style at Punjab Grill, the Michelin Guide Select Royal Indian Dining Restaurant located in the Ritz Carlton Abu Dhabi and Anantara Downtown Dubai. Executive Chef Sandeep Ail has crafted an exclusive Special Vegetarian Menu available from September 29th to October 1st, priced at AED 250. This menu harmoniously blends classic Indian flavors with a contemporary, plant-based twist, catering to strict vegans and those who enjoy occasional plant-based delights. Explore menu highlights like Banana Stem Salad, Jimikand ka Seekh with Phulka Tacos, Turmeric Leaf Roll with Raw Banana Foogath, Masala Pumpkin Fried Idli with Sambar, Crispy Okra, and the indulgent Rasmalai dessert.
Quick Deets
Location: Abu Dhabi- The Ritz-Carlton Grand Canal | Dubai- Anantara Hotel, Downtown, Business Bay
Offer: Special vegetarian menu from September 29th to October 1st for AED 250
Timings: Available all-day
Contact: Abu Dhabi +971 2 449 9839 | Dubai +971 50 194 1107
Also read: Dubai: Top 10 Things You Should Do To Celebrate The Last Long Weekend Of The Year
2. Yummy Dosa: A Mumbai Street-Style Veggie Haven
Yummy Dosa beckons lovers of Mumbai street-style food with an array of fusion dosas and more. Located in Al Karama, Sharjah, and Discovery Gardens, this eatery offers over 99 varieties of dosas, blending authentic Mumbai street flavours with creative twists, all within a rustic and inviting ambience. Beyond dosas, their menu features pasta, sizzlers, Indo-Chinese dishes, and much more, promising a mouthwatering experience that doesn't compromise on quality. It's your ticket to a culinary journey through Mumbai's street-style food scene. The best part you ask? This restaurant isn't just vegetarian for one day only, Yummy Dosa is a purely veg restaurant, so you can even keep the party going and celebrating world Vegetarian day here everyday!
Quick Deets
Location: Various locations around Dubai
Timings: Open from 11:30 AM–12 AM
Contact: 04 342 6332
You may also like: These Are The Top 15 Things You Can Do Around Dubai For Less Than AED 50 Or Absolutely Free!