The Belgium Beer Cafe takes the drinking experience to new heights – quite literally! Brace yourself for an exhilarating journey through the land of hops and barley, where camaraderie meets epic proportions, and thirst knows no bounds. The latest buzz in town is their grand unveiling of the colossal 2.5 litre Belgium beers, a treat that's bound to leave beer enthusiasts buzzing with excitement! Here are all the juicy details you need to know about it.
Also read: 4 Extreme Dishes In Dubai That You Need To Try At Least Once
Raise The Bar (And Glass)
The Belgium Beer Cafe has always been a favourite hangout spot, welcoming patrons with its warm and rustic ambiance. But the true magic lies in the beverages they serve. Now, picture this: a towering glass filled with a staggering 2.5 litres of your favourite golden liquid. Yes, you heard it right! This larger-than-life masterpiece is perfect for sharing among 3-4 people, creating unforgettable memories with friends and loved ones.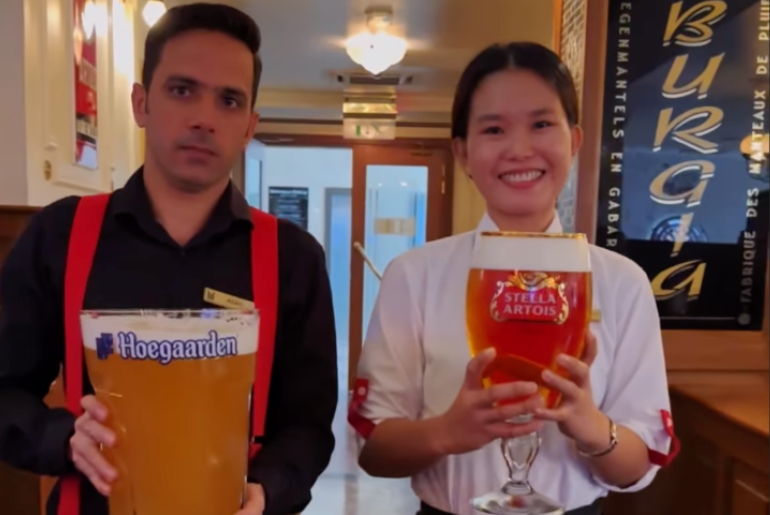 At just AED 149, this enormous serving is an absolute steal, offering five pints' worth of the finest Belgian beer your taste buds can dream of. No more rushing to the bar for refills or constantly looking out for the server – the 2.5 litre Belgium beer tower has got your back!
A Taste Of Belgium: Pure Bliss In Every Sip
Now, let's talk about the star of the show – the beer itself. Belgian beers are renowned worldwide for their exceptional quality, unique brewing techniques, and diverse flavour profiles. Whether you're a seasoned beer connoisseur or a newcomer to the world of brews, the taste of Belgium beer is sure to leave a lasting impression.
The Perfect Pairing: Beer Meets Food
As the saying goes, "Good food and good company are two of life's simplest yet greatest pleasures." The Belgium Beer Cafe takes this adage to heart, offering a delectable menu that perfectly complements their remarkable beer selection.
Unwind, Sip, & Savour
The introduction of the 2.5 litre Belgium beer tower at the Belgium Beer Cafe has transformed the typical night out into an extraordinary escapade. So, gather your friends, clink your glasses, and let the good times flow!
Belgium Beer Cafe Quick Deets
Location: GRAND MILLENNIUM DUBAI, Barsha Heights – Dubai
Timings: Open daily from 12 pm–3 am
Offer: 2.5 Litre beer for AED 149
Contact: +971 4 429 9999
Visit their website for more information.
You may also like: 14 Poolside Escapes: Sip, Swim, And Soak Up The Best Poolside Bars Around The UAE