Dubai, a city known for pushing the boundaries of what's possible, has unveiled yet another mind-blowing attraction – Zenon, the AI-powered restaurant. If you've ever dreamed of dining in the future, Zenon is here to make it a reality. Forget ordinary dining experiences; Zenon takes you on an extraordinary journey in the heart of Downtown Dubai. Here are all the mesmerising details.
Also read: Dubai Launches 14 New AI-Powered Crosswalks Throughout Silicon Oasis Roads To Enhance Pedestrian Safety
A Futuristic Oasis In Downtown Dubai
Imagine walking into a space where holograms come to life, and the walls pulsate with dynamic digital art. Zenon, located in the vibrant heart of Downtown Dubai, offers visitors an immersive dining experience like no other. It's a place where technology meets gastronomy to create an unforgettable atmosphere.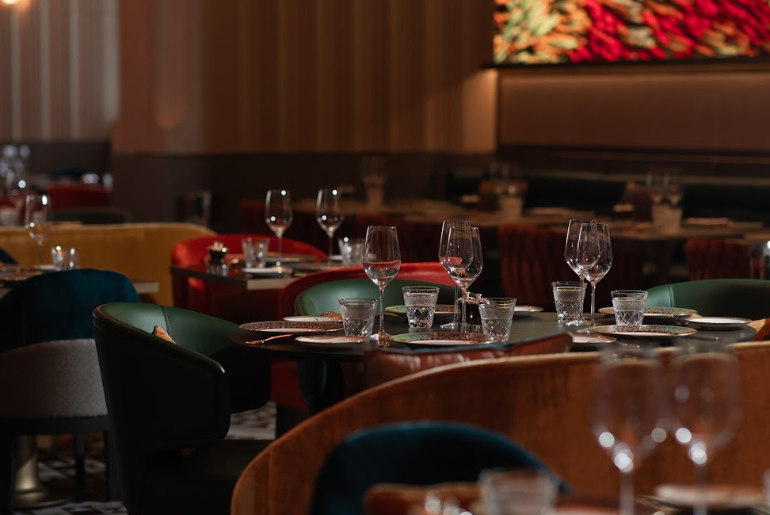 Witness The Magic
Curious about how it all works? Zenon employs Microsoft Kinect cameras to capture every movement within the restaurant. But that's not all; the resident DJ at Zenon wears special headwear that transforms the energy of the room into digital artwork in real-time. As you dine, you'll be mesmerised by the digital art that comes to life right before your eyes, projected onto the restaurant's walls.
Culinary Delights Await
Now, let's talk about the most critical aspect of any restaurant – the food. Zenon's menu is a culinary masterpiece crafted by a team of three exceptional chefs. Among them, Lorenzo Buccarini, who once helmed the kitchen at L'Amo Bistro Del Mare in Dubai Harbour, Thomas Papas, the former chef at Nammos Group, and the sushi maestro Tatsuya Ueda. With their expertise, Zenon offers a delectable fusion of Mediterranean and Asian cuisine.
Also read: Indulge In Delicious All-Day Breakfast At These 14 Fab Restaurants In Dubai
Start your meal with tantalising dishes like the wagyu beef maki roll and otoro carpaccio. Move on to sumptuous options like rigatoni with cream reduction and caviar, or savor a selection of kobe beef mains and fresh, wild-caught seafood. Zenon ensures that every bite is an adventure for your taste buds.
Dubai's Pioneer In Futuristic Dining
Zenon aspires to be Dubai's frontrunner in futuristic dining and entertainment. Whether it's a lunchtime rendezvous or even a late-night dining experience. If you're eager to explore a restaurant that's rewriting the rules of dining, head over to Zenon and immerse yourself in a dining experience like no other.
Zenon Quick Deets
Location: Address Dubai Mall Hotel Lobby Level – Downtown Dubai – Dubai
Timings: Open daily from 12 PM–3 AM
Contact: 04 837 7222
Visit their website for more information and to book your table.
You may also like: Dubai's Most Photogenic Eateries: 12 Cafes & Restaurants To Amp Up Your Social Feed