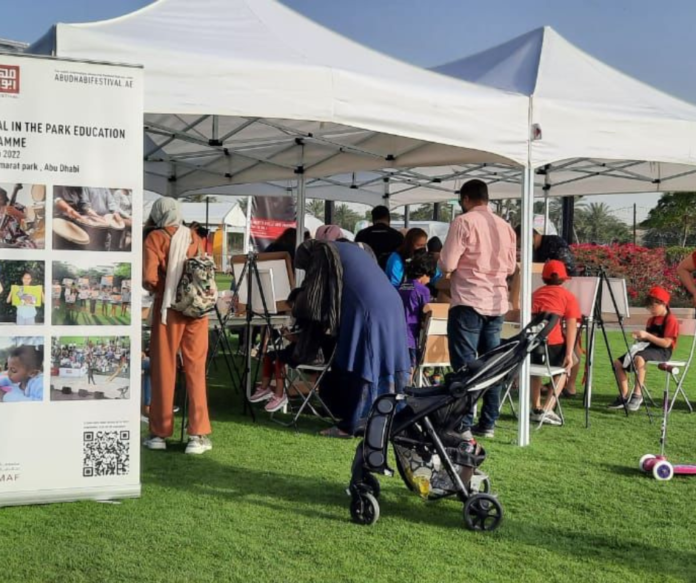 If you're looking for an unforgettable weekend filled with art, music, and culture, look no further than Festival in the Park at Umm Al Emarat Park. On March 12-13, 2023, Abu Dhabi's green destination will host an incredible two-day outdoor event in collaboration with the Abu Dhabi Music and Arts Foundation (ADMAF).
Also read: Iftar Guide 2023 – Best Places To Break Your Fast In Dubai & Abu Dhabi This Ramadan
The Festival In The Park
The Festival in the Park promises to offer a diverse range of family-friendly activities, performances, and workshops that will suit everyone's interests. From drumming circles and graffiti art workshops to street dance and inclusive dance micro-workshops, there's something for everyone at this festival.
But that's not all! The Festival in the Park also offers amazing performances that are sure to entertain you. You'll be laughing your heart out with an exceptional stand-up comedy act and be mesmerized by the incredible Emirati talents performing on stage, including composer and pianist Hamad Al Taee and classical singer Ahmed Al Hosani.
Join us at Umm Al Emarat Park this 12th & 13th of March to celebrate with @admafsocial at the Festival in the Park. Experience a weekend full of culture, arts, music, and community with your family and friends! Don't miss out, see you there! pic.twitter.com/0oSccAeM7M

— Umm Al Emarat Park (@UmmAlEmaratPark) March 7, 2023
Also read: 4 Things You Can Do For Free In Abu Dhabi
Accessibility For Everyone
But what makes this event even more special is its commitment to accessibility. Festival in the Park offers inclusive activities for People of Determination, ensuring that everyone can participate and enjoy the festival. This reflects Umm Al Emarat Park's dedication to providing a platform for creative expression in a family-friendly environment.
According to Rasha Kablawi, Head of Umm Al Emarat Park's Corporate Affairs and Communication Department, "Umm Al Emarat Park continuously seeks to provide unique experiences that blend education through recreation, arts and culture, and community engagement." The Festival in the Park is just one of their initiatives to promote cultural engagement and the arts to visitors of all ages.
So what are you waiting for? Get your family and friends together, and head over to Umm Al Emarat Park for an unforgettable cultural celebration. Don't miss out on this fantastic opportunity to immerse yourself in art, music, and culture!
Also read: UAE's Largest Indoor Adventure Park To Open In Abu Dhabi
The Festival In The Park Details
Dates: March 12-13, 2023
Tickets: Click here