Recently, there was some amazing news announced regarding Global Village! Global Village will be open till the 7th of May 2022! So all you foodies out there, now you have so much more time to try the best food items available in Global Village! Here are 7 food items to try before Global Village Ends:
Raclette Baked Potatoes:
Baked potatoes are an all-time favourite, also imagine a whole lot of cheese on top of that! Just for AED 45 grab some baked potatoes with cheese at Raclette DXB, Food Street.
Corn Dog:
Corn dogs are classic fair food! They are easy to eat and ready to go food, you can enjoy them while exploring places! Grab a bite of cheesy corn dogs for just AED 26 at Tuck Inn, Floating Market.

Chicken Shawarma Rice:
UAE people know that you can never go wrong with Shawarma, what if someone combines rice with it! Near the Egypt Pavilion, for AED 35 you can enjoy the Chicken Shawarma Rice by Eat Shawarma Rice!

Butter Chicken Koshary:
Koshary is a classic Egyptian dish. At Love Mhshy near the Eqypt Pavilion, they combine Koshary with Butter Chicken! For AED 35, taste the Buttech Chicken Koshary.
 Melted Sundae:
A little dessert never hurt anybody! Well, this one by Casa Pons at the Railway Market is like a dream come true for dessert lovers! Enjoy a Melted Sundae for AED 38 for some dessert.
Blizzard Chimney Cake:
Another favourite dessert of ours is the Blizzard Chimney Cake By Good Food at the Railway Market. For AED 32, enjoy this cake in many different flavours!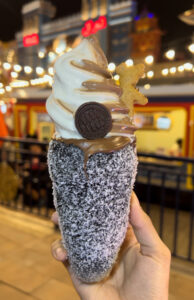 San Sebastian Cheesecake:
A chocolate loaded cheesecake can never fail to make you happy! Served by Asuman at the Railway Market for AED 35 is a delicious chocolate loaded cheesecake that is a must-try!

FOLLOW US ON OUR SOCIALS