The weekend is approaching and nothing is better than to enjoy a cup of coffee with some cute little cats! If you are looking for cat cafés in the UAE, you have come to the right place! Here are 5 cute & cosy cat cafés in the UAE:
Ailuromania Cat Cafe:
The first cat cafe in the Middle East is called Ailuromania, and it's in Dubai. The café serves a variety of foods and beverages and is home to some of Dubai's cutest cats. Along with enjoying great food, they allow you to adopt cats also! How cool! Al Tayer Building, Ta'rada Street, Umm Suqeim, Dubai. 11 AM – 10 PM.
Cat Cafe Vibrissae:
Here you can enjoy an extensive beverage menu featuring Cat Café Vibrissae specials such as rose latte, pistachio latte, toffee nut latte, and Dalgona coffee with some fluffy cats. This one is in Al Safa Complex, 16th Street, Al Safa, Dubai and is not like any other Dubai cafe, it has a very calm and chilled-out vibe, and even the cats are super friendly! WOW!
The Cat Cafe Dubai:
This café not only assures you good food but for hygiene also. On their website, they wrote that all their cats are vaccinated and if any cat is ill they immediately take it to a clinic. Their motto is to welcome people who can't keep pets in their house or are allergic to them. This Café even rescues cats! So if you feel like getting some kitten therapy, head here! Head to Retail 19 The Wings Podium, ARJAN DUBAI!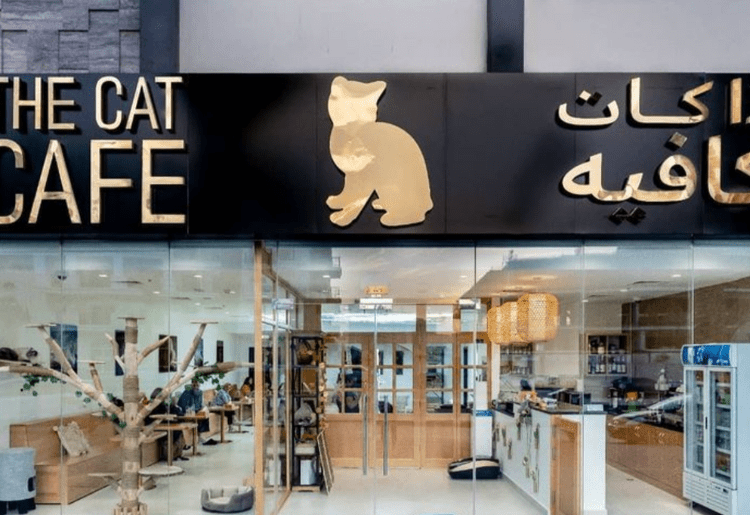 Meow Café:
This one is Abu Dhabi's first cat café, and what is better than some sweet condiments enjoyed with furry friends? Located in Al Muneera, Abu Dhabi, this one offers a wide variety of crepes, waffles, coffee, croissants, cakes, tiramisu, mini pancakes and so much more!
Happy Bark Day:
This one is different from all others, it is a premium pet dessert shop! Here food is not only served to you but also there are fresh-baked pupcakes and puppucinos. A certified pet nutritionist makes desserts for your pet so there is no need to worry. All ingredients used are safe and healthy for pets! Head to Majestic tower, Business Bay, Dubai!
FOLLOW US ON OUR SOCIALS