Cute animal videos and reactions are the only things that made 2020 a little bearable. So here are some of the most funniest animal stories of 2020.
Puppy With A Cheesy Grin: 
In a shelter in Northwest Louisiana, a puppy named, Burreaux, was very ill due a rare medical condition. "Nobody was really showing interest in them," Walton said. "But then Burreaux started smiling. The rest is history." After his smiling video went viral, the attention just kept. He would wag his tail and smile at everyone who passed by him. He finally got adopted by a happy local family.
Drunken Elephants: 
In a village in Yunnan, China, a group of 14 elephants in search of some food, stumbled upon 30 kilograms of corn wine and drank all of it. Hence the result, the wine made them a little tipsy and they fell asleep in the nearby tea garden.
Hungry Cheeky Cat: 
An 11 year old Siberian cat, returned home one day with a note in her collar. The note said: "Does this cat have a home?" the note read, while on the back it said: "Always at Toby Carvery." The 41 year old owner of the cat couldn't stop herself and marched down to the restaurant and said, "She has a lovely home and spends every night with us but thank you Toby customers / workers for looking out for her!" They told her how the cat would come to them everyday and spend hours in front of the customers and staff meowing for food and wouldn't stop until they gave her some.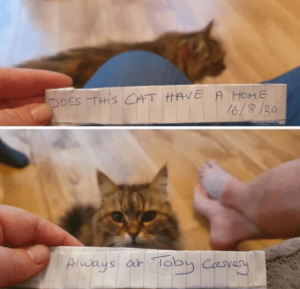 Facebook | Instagram | Youtube