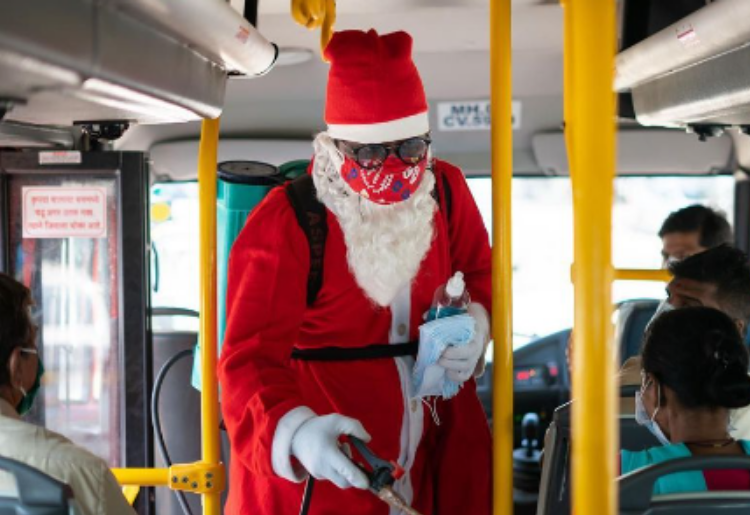 Christmas is all about giving. It is every child's dream to receive a gift from Santa Claus on Christmas morning. So this article is about a real life Santa from Mumbai, India, who dresses up as Santa Claus and spreads happiness.
Earlier, he used to save up the whole year just to dress up as Santa and distribute some gifts to those who are a little less fortunate, but this year due to the pandemic he decided to take dial it up a notch. This year instead of distributing gifts he decided to distribute masks, sanitizers and educate people about the pandemic. He explained the importance of keeping your surroundings and yourself hygienic and clean. People called him 'Santa Claus with a mask'
He even reached out to the police authorities and asked them if he could be of any help. He helped the front line warriors to clean and sanitize public properties and transport like buses, autos etc.
"But this Christmas was different. I decided to spread awareness about COVID-19–I wore a mask as Santa Claus to set an example. I visited slums & gifted over 700 masks & sanitizers. I spoke to them about the importance of hygiene. Can you believe most of them didn't know what COVID-19 is?
Then I called the police inspector in my area & said, 'Sir, I want to help any way I can.' He asked me to sanitize buses, rickshaws & taxis with the force. So in the past 2 weeks, I sanitized over 180 bus stops, 150 BEST buses, auto rickshaws & taxis!" he said.
FOLLOW US ON OUR SOCIALS 
Facebook | Instagram | Youtube