If you love history and old buildings, this article is for you! Athens, Greece, is known for its old monuments, buildings and great scenery! Admire the epitome of Greek culture by visiting this city. At this moment you will be thinking about how expensive travelling to this city can be, don't worry Wizz Air has got your back! Wizz Air will take you to Athens for as low as AED 129 (49 Euros!). So pack your bags, sunglasses and cameras, because the sites in this city will leave you awe-struck.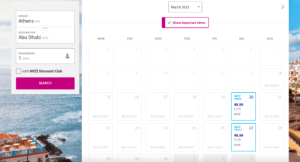 So here are the top 3 places you must visit in Athens, Greece:
Acropolis: Also known as the cluster of ruins, it is the most famous site in all of Athens. This huge hill lies literally at the centre of the city.
National Archaeological Museum: Get ready to see some century-old artefacts and objects which are beyond your imagination. Paintings, walls, jewellery, masks are just a few of the things you will find there.
Herod Atticus Odeon: Almost 2000 years old, this location was used as the main venue for many festivals held in the city of Athens. It has a centre stage which is surrounded by stairs on which people can sit.
FOLLOW US ON OUR SOCIALS