In North California, a man dressed as Santa Claus was rescued by the authorities, after he was found entangled in the power lines. This incident took place after the man took off to deliver some candy canes to the nearby school children in Rio Linda, he flew right into the maze of power lines. Luckily the man wasn't injured or hurt in anyway.
"He flies just around so people can see and flies around people's houses," said Colleen Bousliman who lives in the neighborhood. "This was the first time he was in his Santa suit."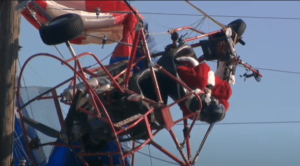 "It's unfortunate, but we all need to remember that there's still a lot of good out in the world, there are people doing good things and to look at the brightness of the holiday season," Vestal said. Vestal said it did not take long time to rescue the costumed pilot and lower him to safety.
"W/o a scratch & full of good cheer we made sure Old St. Nick will use his reindeer when he sees you later this year," the fire department said in a tweet after the incident.