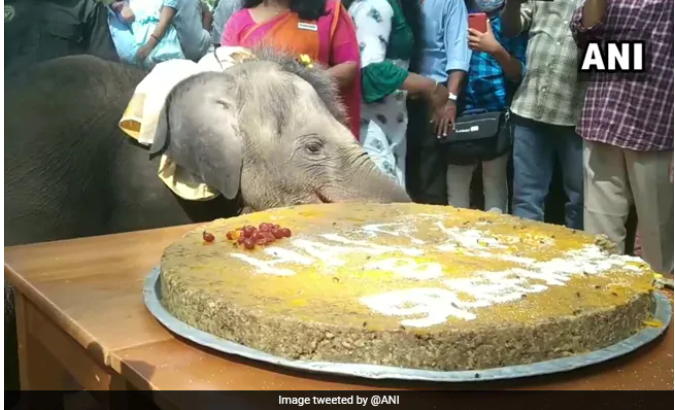 In Kerala, a baby elephant named Sreekutty celebrated her first birthday with a bang. The birthday party was attended by 15 other elephants, she wore a big flower on her hair and the had a jumbo cake to cut!
She was recused from Thenmala forest area when she was just two days old. She has serious injuries and her chances of survival were bleak. But with the loving care of Dr E Eswaran, chief forest veterinary officer (Rtd) and a healthy diet of coconut water and bananas, she recovered in no time.
#WATCH Sreekutty, one-year-old elephant calf celebrated her birthday at Kottoor Elephant Rehabilitation Centre, Kerala yesterday.

She was rescued from Thenmala forest area in November last year. pic.twitter.com/989UyezceW

— ANI (@ANI) November 10, 2020
"When we got Sreekutty, one of her hind legs was badly injured and she had bruises all over her body. It is suspected that she was washed away in strong water currents, eventually getting separated from her parents. As Sreekutty was hardly three weeks old, chances of her survival was just 40 per cent," said Satheeshan N V, deputy wildlife warden.
"Rearranging all post-corona travel plans around meeting Sreekutty on her second birthday," wrote one Twitter user.
FOLLOW US ON OUR SOCIALS
Facebook | Instagram | Youtube